Nicholas Teoh
Architecture is the intersection of art, engineering, nature and technology. Having all of the above being realised and made tangible is a roller-coaster, and Nicholas is just along for the ride.
Juperi
Juperi believes that talent is God given, be humble. Fame is man-given, be thankful, conceit is self given, be careful.
Glen
The beauty of the building revolves on how people perceive its architecture. This is a theory that has long been driving Glen to pursue excellence in his career; the goal of creating this "beauty", and the idea of making it a reality motivates him. Glen believes that in life, faith and perseverance are two very powerful tools to success. Simply put, his idea of success can only be achieved by living the life the Lord gave him to the fullest and by giving back everything to Him, through glory, honor, and praise.
Shaun
It may not be hard to experience joy and beauty in what we see but it is harder still to understand why and how we appreciate the world's material poetry. Thus, Shaun believes Architecture translates beyond just a career, projecting itself as a means through which to study life, and thereby improve it.
Lieselotte
Lieselotte has been studying architecture ever since she was 15 years old. Her passion for it, brought her to Asia a few years ago. She believes architecture is the moment where science and art meet and where memories are created. She admires the work of Alvar Aalto and Carlo Scarpa. In her spare time, she loves to discover new places and sketching.
Yao Tian
Yao Tian believes that architecture is the constant transgression of existing rules and traditions. He admires buildings that pays attention to the experience of the user and the functionality of space. In his free time, Yao Tian enjoys going on long treks and hikes while recording the surroundings through a camera.
Eunike
Eunike believes that good design is firstly faultless, and then timeless - not unlike art in its undisputable beauty, but more so in an intimate and everyday sense, like a good pair of leather shoes or a very nice house to live in.
Constans
We shape our buildings, thereafter they shape us. - Whilst a doctor can bury his mistakes, an architect can only advise his clients to plant vines.
Hsi-en
Hsi-En is by no means an adventurer, but she loves going on lengthy expeditions to explore amazing architecture from around the world, virtually from the comfort of home. With a love for the built environment, she is thrilled to now be able to play a part in crafting beautiful spaces that she has long admired. In addition to architecture, she also enjoys spending her free time on music, watching variety shows and taking long naps in between.
Tiong Li
Tiongli finds beauty in the life of Architecture, which thrives in the mundane and ordinary; he likes to look at the world around him through the lens of a camera, with a mind full of songs. Life is simply more beautiful like that.
Nicholas
Nicholas' passion in architecture was sparked when he stumbled upon the course by chance. Since then, he's put down roots but still is amazed at how random lines become tangible forms. Nicholas believes that good design should be simple, honest, and sensuous. Beyond architecture, he enjoys reading and experiencing new cultures.
Trang
Having spent more than five years on the journey of architecture, Trang still believes she's on the right path. She loves to travel to different cities and experience different cultures, and takes design as an answer to improve the existing as a beautiful whole.
Tiffany
Tiffany believes that the process of architecture should be filled with great ideas, passion and love. Plus the best things in life: great music, a good laugh and tons of sashimi!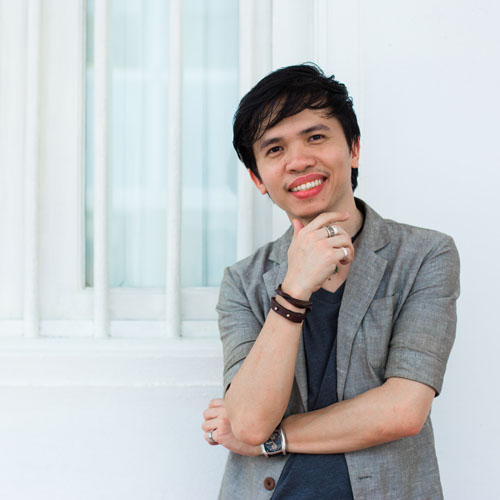 Thomas
Art has always been a key interest since Thomas was young, with the desire to become an artist one day. However, to fulfill his parents' wish for a more practical career, he chose one that is closest to art – architecture.

 Besides architecture, he is equally interested in theatre, chinese calligraphy and graphics.
May
Quiet and considerate, May enjoys cooking for her family on the weekends. She finds it relaxing to watch drama series in Cantonese, as it's a dialect that she's grown up with.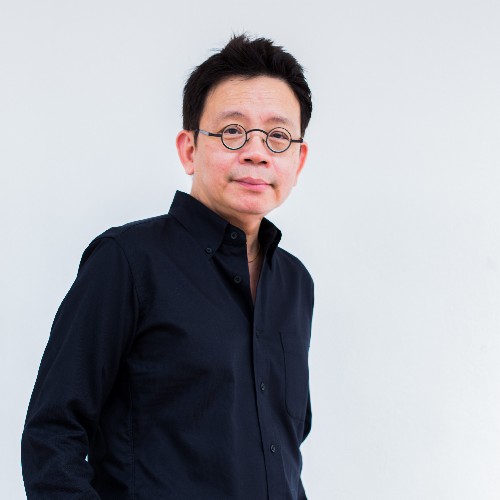 Han
Principal Architect and founder, Han believes in an architecture of simplicity, honesty and direct personal expression. He draws his inspiration from art from the Italian renaissance to the abstract expressionists. Han enjoys lots of music, good food and loves watching movies.